4c marks 1Y
Published on:
1 October 2014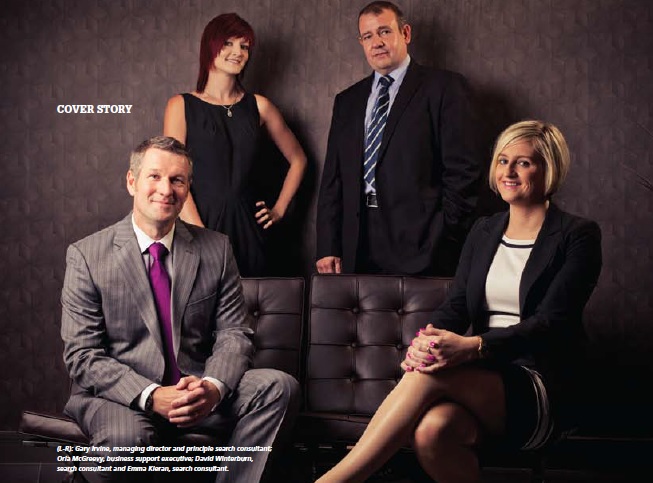 One year ago Gary Irvine started 4c Executive Search with some lofty ambitions. We find out how he got on in the first year of business…
If a week is a long time in politics, a year is certainly a long time in the recruitment market. That's how long 4c Executive Search has been in operation, a 12-month period which has seen the company's original ambitions not just breached, but smashed. Managing Director and Principal Search Consultant Gary Irvine's business plan when the firm opened its doors in October 2013 factored in eight successful assignments in the first year, but 4c had already been retained to complete 30 assignments before the one-year anniversary was reached.
The obvious question is how has such a result been achieved?
Primarily, it would seem, by standing out from the crowd and following in the Ronseal manner of business which involves doing exactly what it says on the tin or, in this case, in the company name. Executive search is 4c's bread and butter, a task which differs greatly from the role of traditional recruitment consultants, and one which Gary knows all too well. He is the founder of Diamond Recruitment Group, one of the oldest and most successful agencies in Northern Ireland, but has passed the day-to-day running of that business over to Managing Director Rick Butterworth.
He remains chairman of Diamond but has devoted most of his energies to 4c – named after the accepted method for valuing the quality and worth of a diamond; the carat, colour, cut and clarity – for the last year and it seems his sprinkling of business fairy dust has done the trick once again. With the energy and focus common with most serial entrepreneurs, he told Ulster Business how the idea for 4c came after spotting a gap in the market for an executive service which catered for companies looking for key talent at a senior level.
That means Chief Executives, Managing Directors, Financial Directors, CFO's, Human Resource Directors, Sales Directors, Market Insight Directors, Marketing Directors, Corporate Services Directors, Production Managers, IS Directors, Audit Directors, Heads of Treasury, Compliance Managers, Heads of Credit and many others. The type of high-level posts which need thorough research and would be impossible to fill properly using the normal recruitment channels, and all of which have been filled by 4c over the last 12 months.
Companies hiring such individuals expect to be presented with potential candidates of the highest level and in a professional manner. "We're all about representing the company at the top end and about finding the talent that a company needs to drive its business forward," Mr Irvine said.
To find out the key to that process, it's worth taking a look at the candidates first, according to Mr Irvine. These include active job seekers, those unhappy in their current employment and who are actively looking for a new opportunity; passive job seekers, those doing well in their current position but who keep a lazy eye open for a better opportunity but aren't actively looking for a new post; and the inactive, those performing well in their current jobs who are settled and established and have no desire or reason to move from where they are. These people are not registered with recruitment agencies or looking at job boards. As an executive search company, 4c mines from across the board but focuses on this last sector in particular, one which tends to be the home of some of the best candidates, albeit the most difficult to find and attract.
The process of coming up with a shortlist of candidates for clients is also an area of specialism which sets 4c apart. Rather than trawl from a limited pool of their own candidates, each search is started afresh via a selection of specialist researchers who are based primarily outside of Northern Ireland. Directed by 4c, the researcher anonymously targets the market and identifies the best people working in the position being recruited for – regardless of whether they have registered an interest in another job – and, once agreement is reached with the client company, they make an initial approach to decipher both suitability and interest. "We create a company target list," Mr Irvine said. "We produce a list of companies which are relevant to our client. We also determine how far geographically we need to search to identify the right talent and frequently find ourselves looking well outside Northern Ireland. On a number of occasions we have also recruited people for clients who have a need for people to be based in GB.
"At this stage the client is given the target list of companies and the people we're about to head hunt to make sure they're comfortable with it. Once that's whittled down we approach the candidates and eventually produce a suitable shortlist of those who are interested and suited to the role."
That latest shortlist is then vetted by 4c's team, all of whom have a wealth of recruitment experience, and the final list is drawn up in a detailed document for presentation in person to the client. The rest of the recruitment process – drawing up interview questions, psychometric testing, assisting on interview panels etc – can all be undertaken with as much or as little assistance from 4c as a client needs. Over the last year the company has assigned candidates into a multitude of positions – from Chief Executive to Executive Assistant – for a host of successful companies across Northern Ireland within the banking, food & drink, IT, pharma, services and manufacturing industries.
"It doesn't matter if the role is for a Financial Director or an Astronaut, it's the process we follow that matters. It's how we go about finding the person," Mr Irvine said. "We make sure we represent the client company in a professional manner at all times and find the best available talent to fill the post."
Being able to do just that has meant committing to operating a strict 'off limits' policy with its clients when it comes to searching for candidates and also building the best possible internal team. Search consultant David Winterburn is a stalwart of the industry and brings a wealth of knowledge and expertise to the company, particularly in relation to managing the researcher base and interviewing candidates in GB, while Emma Kieran also has extensive search experience in the Northern Ireland recruitment market. Orla McGreevy, meanwhile, provides the vital role of business support to the company.
In addition to this, 4c is about to appoint an International Internal Researcher to further strengthen the team. And when it comes to the future, Mr Irvine believes there's little point in changing the winning formula for 4c, one which has borne fruit in spades. "We're going to keep doing what we have been doing while growing the business and becoming the first stop of executive search in Northern Ireland."
That means, as the company's slogan "local knowledge, global reach" suggests, providing a local service to Northern Ireland by reaching out to the rest of the world. "We want to be the undisputed leading executive search firm in Northern Ireland."
That's quite an aim, but given 4c's experience of the last year, one which would appear easily achievable on the current trajectory.
More News & Insights